Benefits Solutions, Inc. (BSI) Releases SIMON 3.0
---
---
With the release of SIMON® 3.0, we feel our customers now have access to the most powerful HR management tool on the market for employee benefits. SIMON has always been an incredible platform, saving time and money for businesses small and large, however, BSI's goal is to provide the absolute maximum value possible to our clients, and with SIMON 3.0 we feel that we have done exactly that.
In October of last year, we kicked off our project to redesign SIMON. We spent a massive amount of time researching the usability of our platform, the most common activities our users perform, and areas to increase efficiency. In doing this research, we gathered and analyzed a tremendous amount of data which has been instrumental in the design and build of SIMON 3.0. While this research was certainly a lot of work, our commitment to improving value made it worthwhile!
As a result of our research, we identified four key areas to focus our efforts on:
1. Mobile Optimization and Redesigned SIMON User Interface
We realized that giving users smooth access to SIMON functions while on the go and creating a sleeker desktop interface would greatly enhance convenience and productivity for our users.
That said, we take great pride in the fact that each SIMON 3.0 web page has been designed 5 separate times to be 100% responsive and deliver maximum performance no matter which type of device or browser the user is accessing SIMON 3.0 with: desktop, laptop, tablet, or mobile.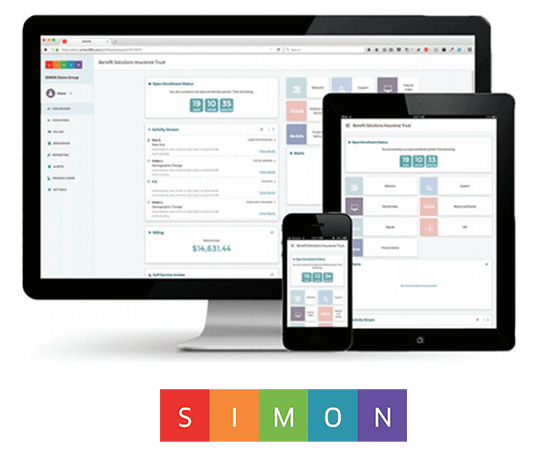 Along those same lines, the SIMON 3.0 user experience now features what's called a "Flat Design". While the 2.0 version of SIMON featured beautifully shaded buttons with rounded corners, there's something a little more honest about flat design, an aesthetic that eliminates drop shadows and other attempts to create a sense of three-dimensional physicality. Flat design also scales well to smaller screens, buttons are easy to identify and are faster to render because they have smaller payloads.
We feel that a flat web design is a more practical design option for our web and mobile options, in our current market. With this change, we've virtually eliminated the need to create a mobile application (that may require users to delete precious content to free up space on their phone) and can deliver a high-performance experience from any device with any internet browser.
2. More Efficient Workflows and Simplified Navigation
In addition to its clean, modern look, SIMON 3.0 brings even greater efficiency through its new streamlined interface and workflows that support the simplest processing of the most common enrollment and eligibility tasks. We accomplished this by first removing all the cluttered menus that were present in the previous version of SIMON. Instead, we streamlined all important page links with a simple side navigation bar and display.
With SIMON 3.0, we truly focused on the little things because users should be able to go "back" or preview changes. Users shouldn't have to zoom in and out for the best experience, and they should have visual cues that the system is thinking or they're missing information. Some may even think we went overboard on the little details, but we take pride in sweating the small stuff.
3. A Smooth Employee Self-Service Portal Experience
While granting employees easy access to SIMON functions to reduce workload for HR staff and allowing employees to handle sensitive issues themselves is not a new concept for us, we've really spruced up the user experience with our SIMON 3.0 mobile optimized design.
Employee self-service users will have a new benefits shopping cart experience where key benefit highlights and related content will be made available every step of the way.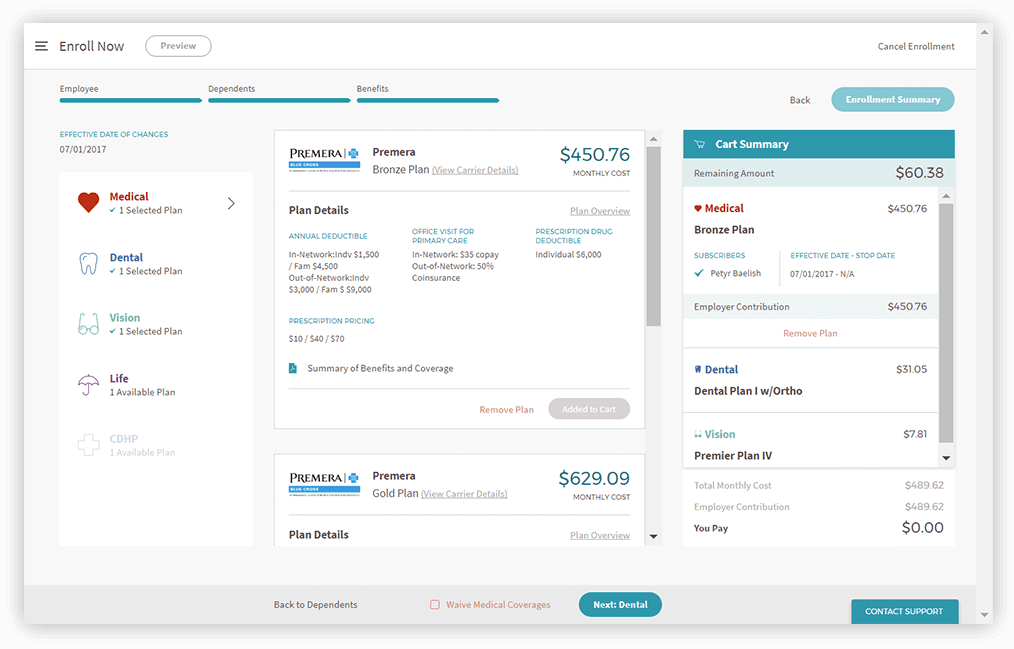 Add the new employer transaction approval feature, where employee self-service transactions are reviewed first and then approved or denied before carrier submission, you can now give the power to employees to manage their own qualifying life events and open enrollment changes.
Employees can now also update their own demographic information and access benefits documents online, anytime, anywhere. This not only improves the accuracy of information but also frees up time for the benefits administrator to focus on more important tasks.
4. New Features
Defined contribution, tracking waived coverages, one- click member card requests, and employer transaction approval are all additional features we identified as being extremely important for our users and have integrated into SIMON.
These are all improvements we know our customers will love (they've told us!), and address the real needs of our clients. Together with all of the other upgrades and optimizations to the platform, these improvements will add tremendous value, and we are thrilled to be able to now provide them to our users.
The SIMON 3.0 platform is the culmination of over 23 years of experience with employee benefits administration. SIMON 3.0 fully supports electronic enrollment with nationally recognized medical, dental, vision, life and other voluntary benefits products making it a multi-million-dollar investment.
We think our current users will agree that the new 3.0 platform offers much more manageable, streamlined, and efficient processing of all common enrollment and eligibility tasks. It is a one stop shop for enrollment/eligibility and bill payment and premium disbursement, allowing our users to accomplish more in less time while feeling confident that their data is current, accurate, and secure.
If you have any questions about SIMON, please don't hesitate to contact BSI via email at: simon@bsitpa.com.
Much thanks to everyone who helped make the launch of SIMON 3.0 a successful one!
---