Benefits administration integrations for greater choice and satisfaction powered by Vimly DataBridge™.
Nothing is more critical than secure data handshakes between two organizations. Vimly is integrated with over 155 health plans, ancillary carriers, benefit and service providers, and has over 200,000 Electronic Data Interchange (EDI) transmissions under our belt, all powered by Vimly DataBridge™.

We emphasize security, quality, and efficiency. To do so, we deploy our integration teams, who are both technical and industry experts. More often than not, they work as consultants with our partners to ensure all parties are delivering high-quality data with minimal operating costs and administrative burdens.
With over three decades of working with various partners, we have yet to find a partner we couldn't integrate with.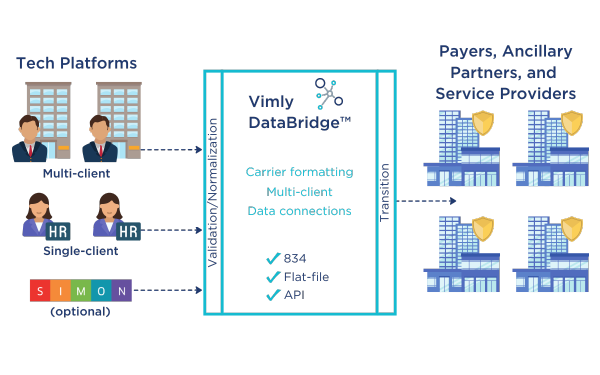 Benefits

Speed
Streamlined processes
Accuracy
Expenses eliminated
Costs minimized
Real-time transactions
Access to suppliers & customers
Up-to-date information
Better business relationships
Features
Traditional multi and single-employer 834s
Single Sign-On (SSO)
Web services and APIs
Standard flat files and proprietary formats
Real-time and batch processes
Any frequency
Robust and flexible reconciliation processes
Address verification
No matter your delivery preference, our team will get the job done.